Make 32 ounces of your own Colloidal Silver Ointment for topical application. Safe, easy-to-make gel that keeps Colloidal Silver in contact with wounds, burns, etc.
$15.00
Out of stock
Free Priority Mail Insured S&H in US on orders over $49.
Shipping charges to other countries shown at checkout.
Description
Now you can make 32 ounces of your own Colloidal Silver Ointment for topical application. Use the solutions you make with our Silvonic Pro Colloidal Silver Generator or any good CS. Put it on cuts, scrapes, minor burns, rashes, cold sores, athlete's foot – anywhere you need a germ fighter! Unlike colloidal silver in liquid form, the topical ointment adheres to the skin increasing the amount of viable contact time for maximum adsorption.
NOTE: If you prefer to buy the best CS gel available, check out the Extra-strength 1000 ppm 250ml container.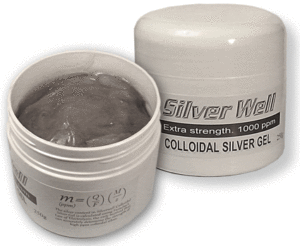 To make Colloidal Silver Ointment, make 8 oz. of extra-strength colloidal silver by running it through 2 or 3 complete cycles with the generator. The solution should be golden to dark brown in color.
Contains enough material to make 1 quart of gel.  Includes instructions, plus nice domed 8-oz. and a 2-oz. "Cold Creme" type containers to store your gel in.
This type of gel is used in the following products:
Rejuvenating and Normalizing Face Wash.
Rejuvenating Treatment Skin Creams.
Rejuvenating Eye Treatment.
Exfoliating Facial Scrub.
Rejuvenating Face Mask Normalizing Creams.
Clearing Face Mask with Tea Tree.
Problem Skin Face Wash.
Problem Skin Moisturizing Gel.
Spot Treatment Cream.
Problem Skin Face Mask Cellumend Cellulite Cream.
Moisturizing Hand and Body Balm.
Intensive Hand Treatment Balm.
Refining and Refreshing Foot Scrub.
Nourishing and Refreshing Foot Cream.
And many more
Colloidal Silver Gel is an excellent topical ointment for bug bites, burns, and poison ivy.
The polymer and catalyst are cosmetic grade, but is not known to be hypoallergenic.  If you have sensitive skin, use only a small amount at first to determine in case of a reaction.