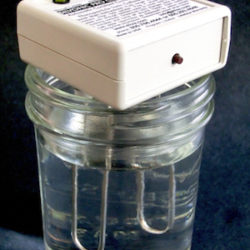 The Silvonic Pro Automatic Colloidal Silver Maker takes around 2 hours* (or more if cold) to make 16 oz of 10 ppm Colloidal silver due to ultra-low current used to produce smallest nanoparticles and highest ratio of ions. (While you can find some CS generators that can generate more quickly than the Silvonic Pro, they cannot produce consistent nanoparticles.)
The Silvonic Pro can make a total of 1 quart without stirring. It eases colloidal particles and ions into distilled water at a highly controlled rate. The automatic shut-off feature means that you cannot ruin a batch because the Silvonic Pro monitors the amount of silver in the water by constantly checking the conductivity of the solution. The resulting Silver Colloid and Ionic Solution (Silver Hydrosol) is very pure, stable and clear. Light will not affect it! This proves its nanoparticle properties more than any lab test.
The Silvonic Pro also structures micro-cluster water. See the instructions for details.
You can check your water for purity with the included EC-3 digital tester.
Elixa has been in business since 1988. Silvonic Pros are made right here in the U.S.A. and come with a Lifetime Warranty (as long as you don't abuse or tamper with it, of course). Each unit is individually machined and hand assembled from rugged heavy duty PVC and pre-tested for performance.